Draw Pro is the first drawing / design software application that lets users insert pop-up images or photos, pop-up text notes and precise verbal comments or audio sound files.
When incorporating these features in your restaurant design layout, it eliminates any discrepancy's that may arise when presenting your restaurant ideas.
These features are great for:
 Home Office Designs
Patent Drawings
School Projects
Kitchen Remodeling
Landscape Design
Interior Layouts
Commercial Designs
Mechanical Drawings
Do-it-Yourself Plans
Home Design
Master Bathrooms
Deck Plans
Office Designs
Inventions
Electrical Drawings
Home Blueprints
Deck Designs
Floor Plans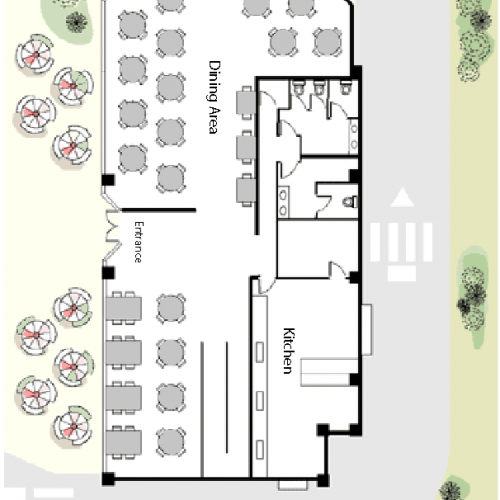 Add any of these interactive features to your restaurant layouts:
Insert your mobile device digital photos or scanned images.
No limit to the number of digital photos or scanned images.
Print your designs with only the selected digital photos or scanned images.
Benefits:
Allows anyone to quickly visualize your ideas with real-world photos or images. Provides everyone with a true visualization of what you want your designs to look like.

Post it – Pop-Up Note Tool
No limit to the number of pop-up notes you may include in your designs.
Assign a unique color to each pop-up note for instant identification and access to specific ideas and comments.
Quickly place pop-up notes directly on the relevant discussion area of your design.
Pop-Up notes help in eliminating any potential miscommunication of your designs.
Benefits:
Everyone has their say using this interactive design tool. When sent through email or in an enterprise environment. The "pop-up" notes are directly placed on the relevant areas.

No limit to the number of speaker icons you can incorporate in your designs.
Allows you to play back any .wav file you may have.
Easily record your ideas or comments…in your own voice!
Benefits:
Real voice or sound audio is an excellent way to add a personal touch to your designs. When using the "pop-up" sound tool your presentations have a much more personal touch to them.